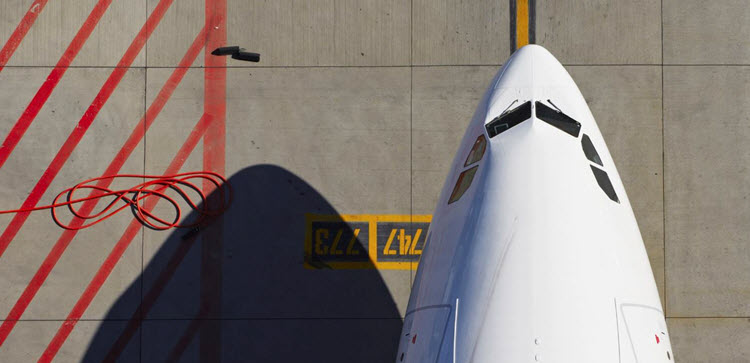 In a two-part article series, ADB SAFEGATE's global ATM advisor, Stephen O'Flynn, explains Follow the Greens. In this second article, Stephen discusses why airports need to develop a roadmap for Follow the Greens (FTG).
Development and deployment of new concepts are often associated with high-risk strategies, as technology development is often not yet mature enough to reduce costs and procedures are not internationally agreed upon.
Follow the Greens is not technology driven, as the core technology already exists today. FTG is motivated by the challenges faced by airports to improve the efficiency of existing infrastructure, as well as enable airport expansion plans to achieve greater benefits. The key is integration of these technologies to act as 'one system' in support of the operational requirements of all stakeholders.
As with any operational change, some risks always exist. These risks are mitigated by applying a gradual evolution of the concept, beginning within current operating procedures before expanding into new operational paradigms in future phases.
The FTG concept is not yet defined by a standard (ICAO, RTCA, Eurocae, ETSI etc.), however this is underway in Eurocontrol and EUROCAE and validation within the Single European Sky Air Traffic Management Research Program (SESAR) is nearing completion. Several airports worldwide have already begun deploying not only the enablers, but also variations of the concept. The strategic path to achieve the benefits of an FTG concept is present in agreed international visions such as the SESAR ATM Master Plan, ICAO Aviation System Block Upgrades (ASBU) as presented through the GANP Doc 9750, and NextGen.
Even though advanced versions of the concept may require new procedures and operating practices, the core technology exists to enable a steady and measured strategic path for deployment of FTG today. With this measured deployment, it is possible to achieve increased benefits over time in taxi efficiency, environment, throughput and safety. The potential returns on investment, within reasonable time frames, appear extremely positive.
Therefore, deployment of a phased and measured strategy to achieve the benefits of FTG using current ATM technology in Airport lighting, Docking Guidance, ATM tower systems and A-CDM will enable increased utilisation of the airports infrastructure for the benefit of all stakeholders.
Originally published in July 2015, updated january 2017.
Part 1: "Follow the Greens: A strategic path to success for all airport stakeholders"
ADB SAFEGATE is a leading provider of intelligent solutions that deliver superior airport performance from approach to departure. The company partners with airports and airlines to analyze their current setup and operations, identify bottlenecks, and jointly solve them using a consultative approach that enables airports to improve efficiency, enhance safety and environmental sustainability, and reduce operational costs. Our integrated portfolio includes solutions and services that harmonize airport performance, tackling every aspect of traffic handling and guidance, from approach, runway and taxiway lighting, to tower-based traffic control systems, and intelligent gate and docking automation. ADB SAFEGATE has more than 900 employees in more than 20 countries and operates in more than 175 countries, serving more than 2,000 airports.